Welcome to Pacific Beach Bars!
Pacific Beach is known for its surf scene and nightlife, and it's one of the most happening hot spots in San Diego! The area is true to its beachy vibe in its bar offerings, with everything from margaritas made for four to wines from the state's northern regions. Whatever your taste buds are wanting for, you'll find a drink to appease them in Pacific Beach.

Cool off at a sports bar for a bite and a tall, ice-cold drink in Pacific Beach. Guava Beach Bar and Grill is right off of the beach, and offers a casual atmosphere where flip flops are welcome and the game is always on. Dig into their calamari while sipping on their famous Bionic Beaver or Guava-Rita! For more laid back fun, check out The Silver Fox. No dress code, pool tables, a jukebox, and strong drinks. What more could you ask for?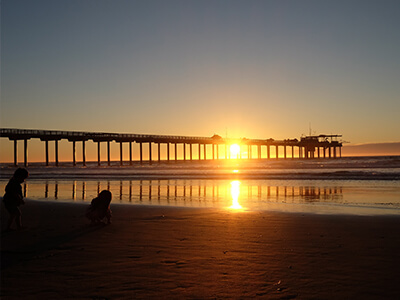 Feeling a little swanky? Head over to JRDN, which pours drinks morning, noon, and night. Go for brunch and concoct your own version of a mimosa with a bottle of champagne and a mixture of juices. Or take in the slick atmosphere while sipping on an elegant mixed drink, like a chili mango margarita or a white wine sangria.
If you're looking for an experience, check out Noble Experiment, located between 7th Avenue and Kettner Boulevard, where you enter through a secret doorway that looks like a wall of kegs into a dark, atmospheric space with paintings in large gold frames on the ceiling above an enormous crystal chandelier. Not to worry, it isn't all about the decor either -- Noble Experiment also serves up some of the best drinks in the city!